Let us help you fix that hail damage on your car!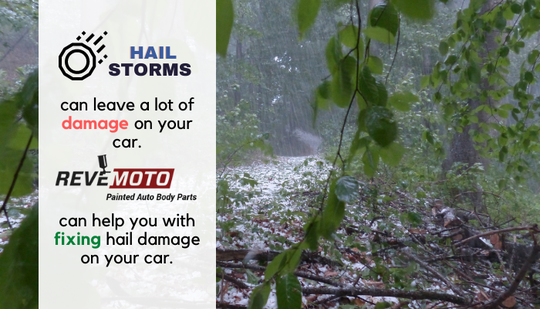 Hail storms are more likely to form during summer time. With them, they can bring damaging hail stones that can hit the ground going as fast as 90 miles per hour. And while many vehicles survive hail storms without any notable damage, some storms are just too tough for vehicles to manage, leaving serious damage in their wake.
Serious hail damage including paint damage or other issues may require a body shop if you want to have it professionally repaired. This may include repairing the metal and professionally repainting the damaged area. The cost to repair serious hail dents can range from a few hundred dollars to more than $5,000. 
Alternatively, you may opt to have a painted car part delivered to your home and especially when body shops are full with appointments or repair takes too much  time. 

If you are still having doubts if you can install a hood or any car part, check out our YouTube Channel.
ReveMoto is your #1 source for reliable painted auto parts! We offer painted car parts including hoods that you can conveniently install yourself. Our parts are guaranteed to fit, color match and has lifetime warranty on the paint job. 
We offer FREE SHIPPING for all new painted car parts shipped within the United States (Additional Freight/Handling Fee for parts going to Alaska and Hawaii). Best of all, parts are well packed and bumpers are not folded!

These customers used ReveMoto's painted car parts to fix their hail damaged cars!
I had a hood painted, to replace a hail damaged one on my work truck. I had been putting off the repairs because every body shop told me they would need the truck for weeks, some had a reputation of keeping vehicles for months. Ordering one seemed like a good solution, even though I was not looking forward to installing it myself. Rep at the front desk told me ReveMoto was now offering installation of my hood, I was happy to hear it. They did a great job. Down time was hours, not weeks or months with a typical body shop.